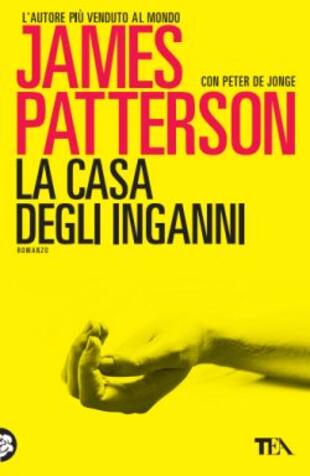 La casa degli inganni
Tutti i formati dell'opera
Acquistalo
Sinossi
Jack Mullen si è fatto dal nulla. Laureato in legge con ottimi voti è entrato come praticante in uno studio legale di New York. Brillante e determinato, ha trovato nell'amore di Dana, affascinante figlia di un importante uomo d'affari, la strada per il successo. Suo fratello Peter è bello, spensierato, piace a tutti. Vive negli Hamptons, dove i famigliari di Dana possiedono una villa principesca. E proprio sulla spiaggia antistante la villa viene ritrovato il suo cadavere. Un tragico incidente, dicono tutti, a cominciare da Dana e da suo padre, che era solito ingaggiare il giovane come parcheggiatore durante le feste. Morte accidentale: questa la conclusione dell'inchiesta. Ma Jack non può credere a questa versione e, con l'aiuto di un'investigatrice, inizia a indagare tra le pieghe oscure di una vicenda che si fa sempre più torbida e intricata...
ISBN: 8850242069
Casa Editrice: TEA
Pagine: 278
Data di uscita: 25-02-2016
Recensioni
As posted in [ http://www.amazon.com]: This is my first book that I've read of Patterson's. I saw his list of books and found it interesting that he co-writes with other authors. However, it doesn't seem to be a bad idea. With *The Beach House*, I found it to be interesting how fast you can read throu Leggi tutto
GoodReads.com
It's probably not fair for me to review this book, since I only made it 70 pages in. I just was not interested! My mind was wandering and I'd have to read the page again! I won't know if it's the author or just the book because I don't really feel like picking up another one of this guy's books. Plu Leggi tutto
GoodReads.com
I love a well written mystery book! And this one was very well written! When I first read the title of this book, the first thought that crossed my mind, was "I should have read this book next summer, not now... so near the Christmas holiday", but now, after finishing it... I'm so happy that I didn' Leggi tutto
GoodReads.com
I am not a big Patterson fan, but I enjoyed this one quite a bit. I read it while stuck in a traffic jam for three hours. I don't think I have ever read a book that quickly. A page burner.
GoodReads.com
Maybe it's because I haven't read a James Patterson book in a while, or maybe it's Peter De Jonge's influence (I haven't read anything by him before), but this story didn't impress me the way most of Patterson's novels -- especially the Alex Cross stories -- have. The story seems rushed, a feeling th Leggi tutto
GoodReads.com
Another good mystery. I really enjoy Patterson's book. They keep your interest right from the beginning.
GoodReads.com
Patterson thriller from over 10 years ago… and it's of his notable page turning variety, a law graduate's brother is killed on a beach and then there's a massive cover up by the social elite and the cops. When the graduate and his friends try to fight back the conspirators really up the ante. Some s Leggi tutto
GoodReads.com
Aggiungi la tua recensione
Altri libri di James Patterson