La casa degli inganni
Tutti i formati dell'opera
Acquistalo
Sinossi
Jack Mullen è un giovane che si è fatto dal nulla. Povero, ma determinato a riuscire, si è laureato in Legge e ha ottenuto un posto di rilievo in un importante studio legale di Manhattan. Coinvolto quasi controvoglia nel giro di amicizie del fratello Peter, Jack non immagina che un fine settimana in una magnifica villa sulla spiaggia possa trasformarsi in un incubo. Peter muore misteriosamente, annegato in piscina, una fine che tutti hanno troppa fretta di liquidare come accidentale. Con l'aiuto di Pauline, investigatrice da sempre innamorata di lui, Jack comincia a raccogliere prove, a scavare dove non dovrebbe...
ISBN: 8830421340
Casa Editrice: Longanesi
Pagine: 281
Recensioni
As posted in [ http://www.amazon.com]: This is my first book that I've read of Patterson's. I saw his list of books and found it interesting that he co-writes with other authors. However, it doesn't seem to be a bad idea. With *The Beach House*, I found it to be interesting how fast you can read throu Leggi tutto
GoodReads.com
"You wouldn't think a motorcycle is a place for quiet reflection" The Beach House by James Patterson I do not get why I cannot get involved in any Jame s Patterson books I read. This one was no different. AND it takes place in the Hamptons..much fun! Except not really. Way to many characters and not th Leggi tutto
GoodReads.com
It's probably not fair for me to review this book, since I only made it 70 pages in. I just was not interested! My mind was wandering and I'd have to read the page again! I won't know if it's the author or just the book because I don't really feel like picking up another one of this guy's books. Plu Leggi tutto
GoodReads.com
I'm not a big James Patterson fan, but I liked this book. The short chapters are great! -seems like I read a book with short chapters faster because I think, "Oh just one more chapter won't hurt; it's only 1:00am and I can breeze thru another 3 before 1:30." ha! My favorite quote from the book is on Leggi tutto
GoodReads.com
I love a well written mystery book! And this one was very well written! When I first read the title of this book, the first thought that crossed my mind, was "I should have read this book next summer, not now... so near the Christmas holiday", but now, after finishing it... I'm so happy that I didn' Leggi tutto
GoodReads.com
i read this only because there was absolutely nothing left to read and no way of obtaining anything else to read. it served to remind me why i have never, and will never again, read a james patterson "novel." (term used EXTREMELY loosely.) why are all his chapters 3 paragraphs long? why does anyone
GoodReads.com
His books were better when he wrote alone...
GoodReads.com
Maybe it's because I haven't read a James Patterson book in a while, or maybe it's Peter De Jonge's influence (I haven't read anything by him before), but this story didn't impress me the way most of Patterson's novels -- especially the Alex Cross stories -- have. The story seems rushed, a feeling th Leggi tutto
GoodReads.com
I am not a big Patterson fan, but I enjoyed this one quite a bit. I read it while stuck in a traffic jam for three hours. I don't think I have ever read a book that quickly. A page burner.
GoodReads.com
This is my first James Patterson novel. This is my last James Patterson novel, unless someone can convince me to give him another shot. This book was T-E-R-R-I-B-L-E!! I downloaded the audiobook from my library and I'm having trouble returning it; computer glitch or my library doesn't want it back? I' Leggi tutto
GoodReads.com
Aggiungi la tua recensione
Altri libri di James Patterson
Il Libraio per te
I libri scelti in base ai tuoi interessi
Il Libraio per te
Scopri i nostri suggerimenti di lettura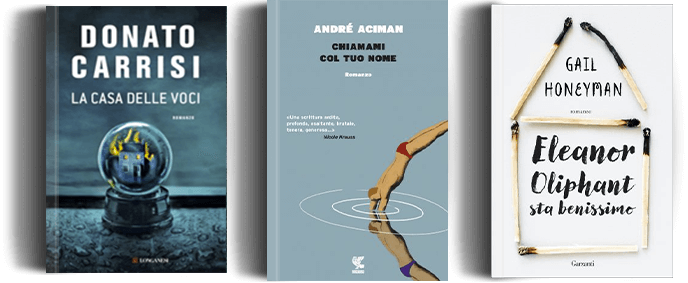 Ancora alla ricerca del libro perfetto?
Compila uno o più campi e lo troverai