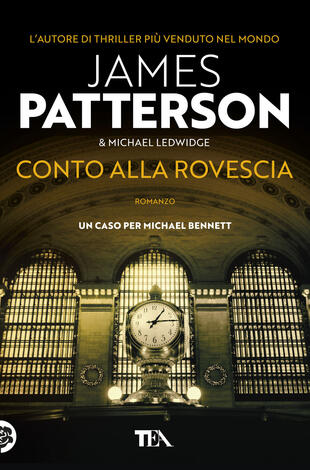 Conto alla rovescia
Tradotto da: Annamaria Raffo
Tutti i formati dell'opera
Acquistalo
James Patterson è lo scrittore più letto al mondo, e anche quello più agguerrito nel difendere le librerie indipendenti.
la Repubblica
Un istinto innato per arpionare il lettore.
il Venerdì di Repubblica
Sinossi
Per il detective Michael Bennett doveva essere una tranquilla e rilassante vacanza con la sua famiglia, ma è costretto a tornare in servizio: qualcuno ha piazzato una bomba nella sede centrale della New York Public Library, accompagnata da un messaggio criptico e inquietante, che lascia intendere che quella bomba non sarà l'unica. A distanza di pochi giorni, vengono ritrovati due cadaveri all'interno di un'auto, e un biglietto, indirizzato proprio a Michael Bennett. Il detective è sempre più convinto che ci sia un collegamento tra gli omicidi e gli attentati dinamitardi che stanno terrorizzando New York, ma dovrà agire più in fretta del killer perché il tempo non dà scampo...
ISBN: 8850251661
Casa Editrice: TEA
Pagine: 312
Data di uscita: 18-10-2018
Recensioni
SOON TO BE A MAJOR MOTION PICTURE!!!!! I have no idea whether the above statement is actually true but I would bet my Kindle on it. This flashy but unsubstantial thriller has movie deal written all over it and has all the pitfalls that a slick blockbuster film would have. First, there is a super-sens Leggi tutto
GoodReads.com
This book was my first experience with James Patterson, and is definitely also going to be my last. I got the book from a coworker who claimed it was one of the best books he'd ever read, so I figured I would give it a shot. Holy lord is this bad. Like beyond being it's-so-bad-it's-funny and just str Leggi tutto
GoodReads.com
A very readable book, with a good balance between the investigative plot and the protagonist's private life, with some hints of good humor. The protagonist is Michael Bennett, a policeman who has to investigate a brutal murderer who kills his victims by imitating great murders of the past, staging t Leggi tutto
GoodReads.com
4.5* Well what an ending! This will be a short review because I want to move on to book five before bed. I really enjoyed the summer non-vacation for Bennett. The crime plot was good but I was more into the family dynamic in this one and interpersonal relationships. My quick and simple overall: great Leggi tutto
GoodReads.com
Primo thriller di Patterson che leggo ma secondo in generale come suo libro in quanto ho letto anche un Maximum Ride. Mi piace il modo di scrivere di Patterson. Capitoli corti e veloci che ti travolgono nella lettura portandoti a non poter far a meno di continuare. Un altro di quei thriller cui non
GoodReads.com
Although I've said it before, this may be my last Patterson book. I think the only reason that I bothered to read this one was that I got the full book for free for my Kindle when the book was first posted on Amazon in December. The book is plot driven rather than character driven which generally ma Leggi tutto
GoodReads.com
Very disappointing for james Patterson. I love most of his books. This one had so much potential and started off good then it kinda just lost it. For a thriller it wasn't very thrilly. I didnt enjoy the case or the characters really. I feel like its not normal patterson work.
GoodReads.com
Aggiungi la tua recensione
Altri libri di James Patterson