Witch & Wizard - Il bacio
Tutti i formati dell'opera
Acquistalo
Sinossi
Grazie ai loro straordinari poteri magici, Whit e Wisty Allgood hanno sconfitto l'Unico tra gli Unici, il dittatore che aveva abrogato le leggi democratiche e proibito qualsiasi forma di libertà. Tuttavia c'è ancora molto da fare per smantellare il Nuovo Ordine e, per la prima volta, Whit si sente davvero solo. Il motivo è Heath, un mago affascinante ma dal passato misterioso, che ha letteralmente stregato Wisty. La ragazza ormai dedica sempre meno tempo ai suoi doveri di governatrice, e le sue decisioni sono in gran parte influenzate dal giudizio di Heath, il quale sembra fare di tutto per allontanarla da Whit. E così, quando all'orizzonte si profila lo spettro di una guerra contro un nemico molto potente, Wisty sarà costretta a fare una scelta dolorosa: combattere ancora una volta a fianco del fratello, oppure abbandonarlo al suo destino per seguire l'uomo che ama…

Dopo Il Nuovo Ordine, Il dono e Il fuoco, questo è il quarto capitolo di Witch & Wizard, la straordinaria saga firmata da James Patterson, l'autore più venduto al mondo.
ISBN: 8842926469
Casa Editrice: Nord
Pagine: 340
Data di uscita: 05-11-2015
Recensioni
Ok James Patterson, enough is enough. I am going to GAG. Someone hand me a plastic bag so I can barf into it. Here's pretty much what happened in chronological order, more or less: learns new book is coming out. gets sort of excited but thinks Mr. Patterson writes too many crappyish books. Goes to w Leggi tutto
GoodReads.com
Some parts were good, some parts were bad. Then there was the instant love. Then there were cool parts, and the just plain creepy. It was just a load of oddness.
GoodReads.com
Okay, I have to complain about a few things. The Cover. What the hell is up with the cover? If that beautiful baboon is supposed to be Wisteria Rose Allgood, I will bust Dahvie Vanity's walnut. Like, for real. The Title. Yeah, what the fuck is up with the title? I mean "The Kiss" ? LOL Oh James, your a Leggi tutto
GoodReads.com
So this is book 4 in the trilogy.........Wait...Hunh???? This is book four in the series of THREE. My initial reaction was followed by a massive eye rub and squinting at the book again. My reaction after the first two chapters. By the End of the Book: Before this: I merrily went my way and purchased Leggi tutto
GoodReads.com
It was so intense and pretty much the whole book makes you do a cartwheel from your emotions. While reading this i was angry and i repeatedly insulted the characters in my mind but i forged on. There are so many twists to this story, but i loved each and everyone of them. You think you know how it's Leggi tutto
GoodReads.com
I TOTALLY KNEW IT!!!!! SPOILER ALERT!! -ish I KNEW Heath was bad news!! The twist at the end was SO GOOD! XD I absolutely loved the twist at the end with Heath/Pearce. It's interesting how Patterson had a messed up, sociopathically disturbed guy -- who I think has semi-good tho twisted intentions, bu Leggi tutto
GoodReads.com
I really missed this guys. Whist and Wisty are good example of how should look love between siblings. But, I wish there was more Byron. From asshole, he turned to real sweetheart. And Wisty should be with him. To be honest, I think this part was the best so far.
GoodReads.com
I was a bit worried when it was announced that this book was coming out. Not because I thought it would be bad, but because I thought it would just suffer from the same negative-review attack that The Final Warning suffered, unfairly too because it's a very good book. Any negative reviews this one ge Leggi tutto
GoodReads.com
The Kiss was better than I expected but my expectations were low. I love the main characters Wisty & Whit Allgood. I want to see how their story ends. I was so disappointed in the 3rd book in this series The Gift, I almost didn't pick this up. I'm glad I did. It renewed my my excitement about the st Leggi tutto
GoodReads.com
This was a very thrilling book. I like that Wisty and Whit were finally recognized for their action and that people were not trying to kill them for the moment. I liked that Pearl tried her hardest even though she was in a bad condition. I like that Njar saved Ross, Janine, and Whit even though he c Leggi tutto
GoodReads.com
Aggiungi la tua recensione
Altri libri di James Patterson
Il Libraio per te
I libri scelti in base ai tuoi interessi
Il Libraio per te
Scopri i nostri suggerimenti di lettura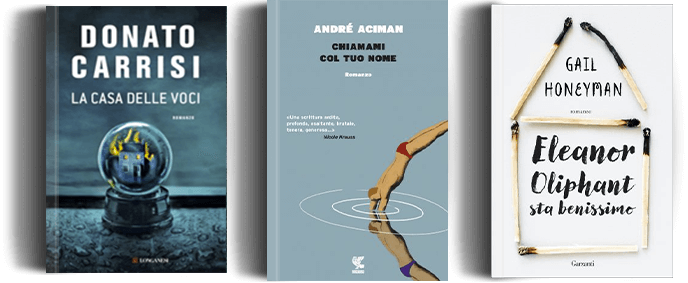 Ancora alla ricerca del libro perfetto?
Compila uno o più campi e lo troverai