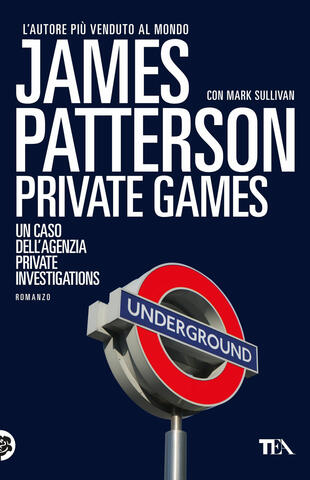 Private Games
Tutti i formati dell'opera
Acquistalo
Sinossi
Londra. Mancano pochi giorni all'inizio delle Olimpiadi. Ma c'è qualcuno convinto che l'antico spirito olimpico sia stato tradito dalla moderna corruzione e che questi Giochi non debbano avere luogo. Il primo omicidio è un segnale chiaro: davanti al cadavere di Sir Denton Marshall, uomo chiave del Comitato organizzatore, i cinque cerchi olimpici disegnati con la vernice spray sono coperti da una X. Tracciata con il sangue. Per la filiale londinese dell'agenzia di investigazione Private, al comando di Peter Knight, abilissimo detective e uomo tormentato da un passato di dolore, inizia una drammatica corsa contro il tempo e contro un nemico spietato e invisibile...
ISBN: 885024634X
Casa Editrice: TEA
Pagine: 336
Recensioni
I thought I knew who cronus was but then there's a twist and it's someone you never would have guessed. Most of the book implies it's this one man but no! I really enjoyed this book. It will keep you up til all hours of the morning.
GoodReads.com
I won't say this is the worst techno-thriller I have ever read. I read a lot of them. But my goodness, this book was awful! I've read other James Patterson books and some of his earlier stuff was pretty good. But in a techo-thriller, the author has to get the "techno" part absolutely right. And the " Leggi tutto
GoodReads.com
Everything was on target for the 2012 Olympic Games to go off without a hitch in London – the planning had been intense, the security second to none. But no one had reckoned on a maniac with an agenda of his own. When Private London's head of operations, Peter Knight, arrived at the scene of a murde Leggi tutto
GoodReads.com
Living in London during the Olympics and having a mild interest in Greek/Roman mythology, I thought this would be an intriguing listen for those early morning commutes on what turned out to be empty trains, thanks Boris. Imagine someone had briefed a sun journalist to write a thriller in a weekend, a Leggi tutto
GoodReads.com
3-3.5* It was a pretty good read centered on terror killings at the London Summer Olympics. I found Peter's character easy to like and actually very fun to read about. I was torn with follow the Private series as Goodreads has them in order because of veering off from the main Private series but Jack Leggi tutto
GoodReads.com
On your mark, get set, GO! Book number three in the Private series keeps you reading until you cross the finish line. Centered around the 2012 Olympics it was an enjoyable read; I give this one 4stars!
GoodReads.com
I couldn't decide at first if I wanted to give this book a 3 or 4, but once I thought about it, I decided it did deserve a 4 because the things I didn't like were minor when I took the book in its totality. What I didn't like: Peter Knight's twins did a couple of things that I don't think children t Leggi tutto
GoodReads.com
In an effort to broaden my horizons into best-selling fiction that my patrons read, I decided to pick this up. This will probably be my first and last foray into the publishing behemoth that is James Patterson. I know something is poorly written when I'm constantly thinking to myself, "I could write Leggi tutto
GoodReads.com
Loved this book! I love that you got to see another side of Private International, the London side this time, and it was so cool that this took place during the 2012 London Olympics! It was fast paced, lots of action, and the characters were great! I love Peter Knights character and I cannot wait to Leggi tutto
GoodReads.com
Cronus & his Furies invade the London Olympic Games. Jack Morgan knows that in order to be the best at what you do, you must hire the best and pay them very well. Take Peter Knight, Private London's best investigator, out to find the person or persons responsible for killing his mother's Fiancé abs Leggi tutto
GoodReads.com
Aggiungi la tua recensione
Altri libri di James Patterson