La First Lady è scomparsa
Tutti i formati dell'opera
Acquistalo
Sinossi
Un segreto capace
di far crollare una nazione
Uno scandalo
che si trasforma in un incubo
Un nuovo, straordinario stand alone dal maestro incontrastato del thriller


Il presidente degli Stati Uniti, Harrison Tucker, è al centro di una tempesta mediatica. La sua relazione extraconiugale è stata svelata ed è diventata di pubblico dominio. Per non alimentare lo scandalo e non gettare al vento gli sforzi impiegati per la campagna di rielezione, Tucker ha bisogno di sua moglie e del suo appoggio. Ma Grace Tucker è stanca dei trucchi del marito. Dopo anni di compromessi, promesse non mantenute, inganni e tradimenti, Grace non vuole arrendersi e decide di fuggire dalla città e dai suoi agenti, di sparire dai radar. Di scappare.
Sally Grissom è uno degli agenti segreti che vegliano sulla sicurezza del presidente. Quando viene convocata per una riunione riservata nello Studio Ovale, capisce subito che qualcosa è andato storto. È lei che, nel più totale silenzio, dovrà aprire le indagini per ritrovare Grace Tucker. È lei che dovrà capire quale segreto oscuro si cela in realtà dietro la sparizione. E dovrà farlo prima che per tutti sia troppo tardi.
ISBN: 8830454710
Casa Editrice: Longanesi
Pagine: 336
Data di uscita: 28-05-2020
Recensioni
\"Denaro, prestigio, potere... tutte valide monete di scambio nel District of Columbia, ma ciò che conta davvero è avere accesso al presidente\". Forse perché ero rimasto piacevolmente sorpreso dal precedente Il presidente è scomparso, scitto a quattro mani con l\'ex presidente Bill Clinton, ma questo nuovo lavoro di James Patterson (e Brendan Dubois) mi ha molto deluso... Che dire...? Una trama piena zeppa di stramberie (e già dalla prima pagina), nessun colpo di scena (o meglio, quei pochi che ci sono sono talmente prevedibilissimi che io non li considero veri e propri colpi di scena), un colpevole facilissimo da individuare e personaggi piatti che più piatti di così non si può. Serve aggiungere altro?
Redazione ilLibraio.it
I found this book incredibly frustrating as there were so many stupid things happening. Here's a few examples; - There's no way the First Lady would have been in that cabin and not found. She was only 3 miles upstream. - The horse farm had a shed full of illegal immigrants and despite the huge search Leggi tutto
GoodReads.com
A quiet day today and managed to listen to this in one day. A good stand alone atory with an unexpected twist
GoodReads.com
This is one of my book club picks. I don't usually read Patterson as I'm more into the physiological thrillers like Tana French. However, this was a quick read, the characters were surprisingly well drawn and emotional - I also find most thrillers focus on the plot instead of the character developme Leggi tutto
GoodReads.com
Aggiungi la tua recensione
Altri libri di James Patterson
Il Libraio per te
I libri scelti in base ai tuoi interessi
Il Libraio per te
Scopri i nostri suggerimenti di lettura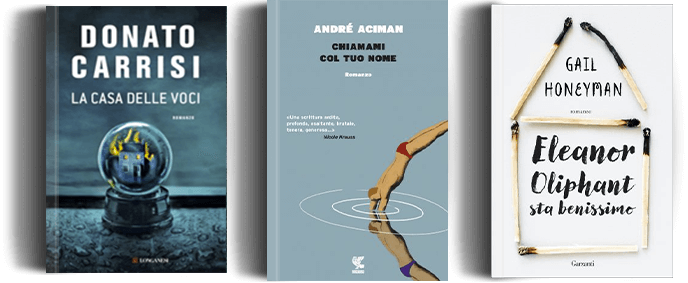 Ancora alla ricerca del libro perfetto?
Compila uno o più campi e lo troverai