Gli ultimi giorni di John Lennon
Tutti i formati dell'opera
Acquistalo
Un romanzo incredibilmente teso ed emozionante.
LEE CHILD
Si entra nella mente delirante di Chapman, mentre cerca il coraggio di premere il grilletto per uccidere John Lennon.
GQ
Sinossi
L'ASSASSINIO DI UNA LEGGENDA RACCONTATO DAL MAESTRO DEL THRILLER PIÙ LETTO NEL MONDO: 400 MILIONI DI COPIE

L'8 dicembre 1980 il cantante più famoso della storia della musica
e un suo fan si incontrano.
Uno morirà. L'altro finirà in carcere per il resto dei suoi giorni.
È un thriller. Ma è anche una storia vera.

Neanche nei suoi sogni più esaltanti, John Lennon aveva immaginato che i Beatles lo avrebbero trasformato in una superstar internazionale, in grado di scalare le vette delle classifiche, conquistare il pubblico americano, rivoluzionare la musica pop e influenzare intere generazioni di fan in tutto il mondo.
Sembra un sogno, ma è tutto vero. Una parabola esaltante fatta di incontri casuali, vitalità dirompente e un immenso talento.
I Beatles in pochi anni diventano la band più amata del pianeta. Riassumono un'epoca e insieme la plasmano. Nessuno li può toccare.
Nessuno tranne un giovane fan, Mark David Chapman, così ossessionato da Lennon da volare fino a New York da Honolulu, per appostarsi nell'Upper West Side, davanti al palazzo dove vive il suo idolo, il Dakota Building.
La sera di quel maledetto 8 dicembre del 1980, Lennon ha appena compiuto quarant'anni. Sta rientrando a casa dallo studio di registrazione, con la moglie Yoko, giusto in tempo per dare la buonanotte al figlio Sean, di cinque anni. Con cinque colpi di pistola l'anonimo Mark Chapman fredda la più grande leggenda della musica vivente, che morirà pochi minuti dopo all'ospedale.
Che cosa lo ha spinto a compiere quel gesto? A cosa pensava?
Arricchito da interviste esclusive ad amici e collaboratori di Lennon, fra cui Paul McCartney, questo documentatissimo libro narra l'incredibile storia vera di due uomini che con le loro azioni hanno cambiato il mondo. Una storia raccontata con il ritmo, il brivido, le emozioni che nessuno come James Patterson sa calibrare.
ISBN: 8830457329
Casa Editrice: Longanesi
Pagine: 384
Data di uscita: 23-09-2021
Recensioni
All We Need is Love "The Last Days of John Lennon"is an incredibly thorough book. It's references are over around 100 pages – – incredible. It begins with a thorough summary of John's role with the Beatles. It goes next to his solo career. Finally ending with a tragic day in 1980. At first I thought th Leggi tutto
GoodReads.com
In this book with a rather misleading title, we find out about John Lennon's involvement with the Beatles as well as his "last days." When I put this book on hold, I had thought that it would have been solely about his final days of his life, but instead, the book starts with the birth of the Beatle Leggi tutto
GoodReads.com
I was hoping for something different I guess. Most of the book is a recap of the Beatles. Not impressed.
GoodReads.com
Patterson, who would seemingly put his name on anything, selected two writers to cut and paste Wikipedia pages on the Beatles, and then put them into his "easy reader" for adults format in an obvious attempt to capitalize on the 40th anniversary of Lennon's Death.
GoodReads.com
It has a few surprising and delightful moments. Mostly it's things we already know about The Beatles.
GoodReads.com
Aggiungi la tua recensione
Altri libri di James Patterson
Il Libraio per te
I libri scelti in base ai tuoi interessi
Il Libraio per te
Scopri i nostri suggerimenti di lettura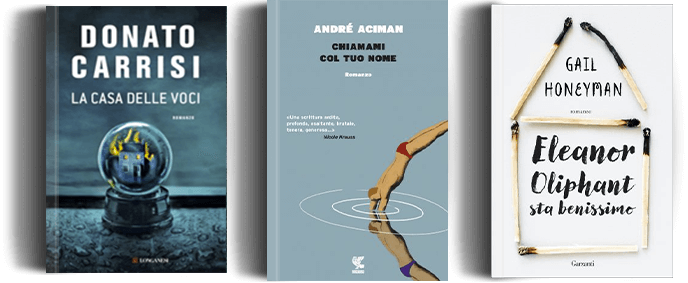 Ancora alla ricerca del libro perfetto?
Compila uno o più campi e lo troverai