Private
Tutti i formati dell'opera
Acquistalo
Sinossi
Intorno alla fine di Benito Mussolini e alle tante, contrastanti versioni che nel corso del tempo hanno tentato di ricostruire gli ultimi giorni del Duce, dalla disperata fuga sino all'esecuzione e alla macabra esposizione del cadavere a Milano, molto resta ancora da chiarire. Se già nell'immediato dopoguerra si erano levate le prime voci dissenzienti intorno alla vulgata ufficiale, a partire dagli anni Sessanta ha iniziato a diffondersi una vasta letteratura sull'argomento, ricca di spunti d'indagine e misteri irrisolti. Dalla sparizione del «tesoro di Dongo» all'ipotesi della «doppia esecuzione», dalla caccia ai «diari del Duce» sino all'inquietante ruolo (adombrato, tra gli altri, dall'ultimo De Felice) che potrebbero aver giocato i servizi segreti stranieri nella fine del dittatore, tutto è stato rimesso in discussione e sottoposto a inchiesta. E, al di là del furore ideologico che in passato ha animato alcune ricerche, ciò si deve anche alla pubblicazione di documenti d'archivio prima indisponibili, e quindi all'emergere di nuove e credibili testimonianze che contraddicono molte delle precedenti. Pierre Milza, storico del fascismo e autore di una monumentale biografia su Mussolini, traccia oggi un bilancio (quasi) definitivo sulla questione, guidandoci con autorevolezza nell'appassionante labirinto delle interpretazioni
.
ISBN: 8830430900
Casa Editrice: Longanesi
Pagine: 307
Data di uscita: 21-04-2011
Recensioni
I had gotten this audio book a while back as an Audible Daily Deal. I hadn't ever read anything by James Patterson and I figured that was the perfect opportunity to do so. My husband and I had to drive to Atlanta, so I chose this book, as I thought he'd enjoy it more than the paranormal fantasy stuf Leggi tutto
GoodReads.com
Very good start and then it fizzles out. At this point, it is clear that the Patterson collaborations are 100% written by the second author. Nevertheless, Paetro has done a good job with some of the books on the Women's Murder Club series (though she has also delivered some duds in that one). As a re Leggi tutto
GoodReads.com
Pretty good. I enjoyed the characters and the plots. I think I will still read the Michael Bennett and Alex Cross series before continuing this series, but I will continue it. Love the character of Jack and his colleagues. My quick and simple overall: only takes a few hours to read this book and is
GoodReads.com
Private is a book written by James Patterson (and Maxine Paetro) who is a well known author of crime thriller novels. Wow. Sorry James, but this is a really crappy book. The story line is all over the place, the characters are completely undeveloped and the "reveal" at the end is totally predictable Leggi tutto
GoodReads.com
When reading reviews, particularly on Amazon, I've noticed a lot of complaints about how the Patterson books are written. As a reader, what I care about is the end result. I want a good story. Sometimes, Patterson's formula works and sometimes it doesn't. I enjoy The Women's Murder Club series and t Leggi tutto
GoodReads.com
Meh. Too long, too many story lines, not enough emotion. And who the heck puts an epilogue in then continues the story with more chapters? WTF Patterson?
GoodReads.com
Aggiungi la tua recensione
Altri libri di James Patterson
Il Libraio per te
I libri scelti in base ai tuoi interessi
Il Libraio per te
Scopri i nostri suggerimenti di lettura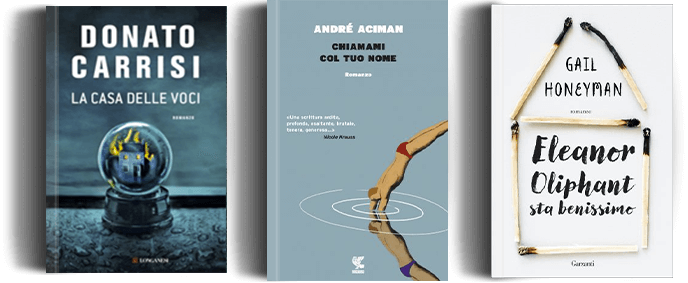 Ancora alla ricerca del libro perfetto?
Compila uno o più campi e lo troverai