Il diario di Suzanne
Tutti i formati dell'opera
Acquistalo
Sinossi
Katie Wilkinson ha trovato l'uomo ideale ma un giorno, senza spiegazione, lui sparisce dalla sua vita e le lascia un diario da leggere. È il diario di una giovane mamma scritto per il suo bambino, in cui Suzanne racconta la storia d'amore tra lei e il padre del bimbo e l'immensa gioia che la maternità le ha procurato. Nel leggere questo commovente resoconto Katie si rende conto che il padre del bambino e l'uomo che l'ha lasciata sono la stessa persona e che il suo amato Matt ha quindi una moglie e un figlio. Ma il resto del diario la mette di fronte a qualcosa d'altro, qualcosa che la spaventa e la fa sperare allo stesso tempo.
ISBN: 8879725378
Casa Editrice: Corbaccio
Pagine: 272
Recensioni
You can also see my review @ https://readrantrockandroll.com/2018/... Katie and Matt had the perfect relationship. They had much in common and a completeness, but when Matt suddenly leaves the relationship, Katie is left with many questions and wonders what went wrong. Matt is someone Katie could've Leggi tutto
GoodReads.com
This book was the worst I've read. I actually felt less intelligent when I finished it. I feel empathy for people who think this is quality writing. Put it this way, the book was so bad that the movie was better. I actually liked the movie a lot, which means it wasn't the story, it was the author. P Leggi tutto
GoodReads.com
Suzanne's Diary for Nicholas is an amazing love story, for me it was a page turner that I read in less than 24 hours (quite a feat with a nursing baby)! It is an incredible fictional love story set in New York and Martha's Vineyard. Part of the book includes experiences from the author's life. It st Leggi tutto
GoodReads.com
Ovaj romantični iskorak u Patersonovom opusu ne zaostaje za Nikolasom Sparksom... :)
GoodReads.com
I've read more of James Patterson's novels than I care to admit, and from what I've observed, their general pattern is a little bit of exposition followed by some drama and suspense, which is mostly boring or unbelievably contrived (or both), followed by some sappy, overly-sentimental, unimaginative Leggi tutto
GoodReads.com
I still rue the day I picked up this book from the library and even more, reading the first page. The overly-contrived plot contains unbelievably "perfect" characters and comes off as just hokey and ridiculous. Oh, how I regret reading to the end. The sappy sentimentality. The over-the-top crude att Leggi tutto
GoodReads.com
I know opinions vary hugely about this book but I have got to say I really enjoyed it! I must also admit I only read it for a Xmas Challenge - read a book with the name Nicholas in the title:) In my opinion Patterson took his skills at writing suspense and applied them to a romance instead. There wer Leggi tutto
GoodReads.com
Suzanne's Diary for Nicholas, James Patterson Suzanne's Diary for Nicholas is a 2001 novel by James Patterson. In 1974, Patterson fell in love with Jane Blanchard. After dating for several years, she was diagnosed with a terminal brain tumor. When she died, Patterson devoted his time to writing and s Leggi tutto
GoodReads.com
I have never read any James Patterson books and after reading this one I don't think I'll ever read another. There were so many things wrong with this book I don't know where to begin. This book is a love story, and I usually love a good romance, but it was so saccharine-sweet it made it unbelievabl Leggi tutto
GoodReads.com
This is not the James Patterson I knew. It takes a lot of confidence to move into a different genre and Patterson has accomplished that move spectacularly. When I was about half through, I wondered why I was still reading. It was a nice story but ... ... then, with an exquisite sense of timing, Patt Leggi tutto
GoodReads.com
Aggiungi la tua recensione
Altri libri di James Patterson
Il Libraio per te
I libri scelti in base ai tuoi interessi
Il Libraio per te
Scopri i nostri suggerimenti di lettura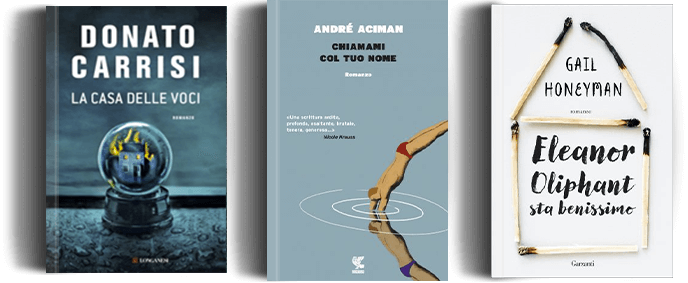 Ancora alla ricerca del libro perfetto?
Compila uno o più campi e lo troverai