La memoria del killer
Tutti i formati dell'opera
Acquistalo
Sinossi
Dal regista di Fast and furious, Rob Cohen
ALEX CROSS
La memoria del killer
con Tyler Perry e Matthew Fox
il film tratto dal romanzo di James Patterson
In libreria a 9,90 euro.
ISBN: 8830437832
Casa Editrice: Longanesi
Pagine: 288
Recensioni
I may have made a mistake with these books. Usually I am quite anal about series and I start at number one and move through in order. For some reason I did not do this with Alex Cross and I am now starting to regret it! Sure, each story works on its own but, read at random, sometimes Alex is married Leggi tutto
GoodReads.com
This is the Alex Cross book I have been waiting to read; where he finds out who killed his wife years ago. It did not disappoint! Alex is now working as a full-time psychologist in private practice but is right back into the investigation world when things warm up his wife's cold case. This one was Leggi tutto
GoodReads.com
Book 12 in the Alex Cross series published 2006. Unfortunately, for me, this was just more of the same. Completely out of control psychopath, this one was a bit different inasmuch as he is also a serial rapist. As a result of a stern talking-to from Nanna/Mamma Alex decides to quite the FBI and go in Leggi tutto
GoodReads.com
Being a big Patterson fan and following the character of Alex Cross through all of the his books I am sad to say that I am really beginning to get tired of him. It really pains me to say that because I have come to really like all of the characters that have been created within the Cross series but
GoodReads.com
James Patterson owes Hollywood a debt of gratitude. If it wasn't for the movie version of this book, I would not be writing this review. In fact, if it wasn't for this movie, I would not have read the past three Cross novels, ever. I am not a fan of James Patterson. His writing is beyond abominable. Leggi tutto
GoodReads.com
I used to love James Patterson books. (I loved Alex Cross' badass persona complemented by his squishy in the center role as a family man.) But lately I've chosen to stay away from Patterson's books. The bloom is off the rose, so to speak. I honestly believe that the sheer volume of his work has caus Leggi tutto
GoodReads.com
The top Mafia contract killer The Sligo Butcher, Michael Sullivan is going renegade. Cross also has other things going om, a serial rapist and an new look at the murder of his wife, many years ago. Meanwhile Alex, is coming to believe that it is time he put his family first and left the FBI. The int Leggi tutto
GoodReads.com
I like James Patterson's style and his method of story telling. The action moves along quickly and the characters, while not all that memorable, are suitably likable or villainous. It's a real page turner, as forensic psychologist Alex Cross tracks down the sadistic mafia killer known as The Butcher Leggi tutto
GoodReads.com
I don't know why I keep doing this to myself. The Cross books are certainly better than some of the others Patterson keeps churning out with his co-authors. That being said, they aren't as good as they used to be. I think I've come to the conclusion that all good series must come to an end and this
GoodReads.com
An Alex cross book which he finds out who killed his wife back in 1993 must admit wasn't who I thought it was.
GoodReads.com
Aggiungi la tua recensione
Altri libri di James Patterson
Il Libraio per te
Scopri i nostri suggerimenti di lettura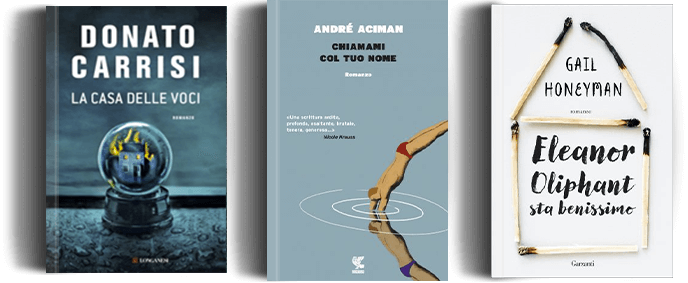 Ancora alla ricerca del libro perfetto?
Compila uno o più campi e lo troverai