Honeymoon
Tutti i formati dell'opera
Acquistalo
Sinossi
Si chiama Nora, è bella, ma soprattutto seducente. Abile manipolatrice di uomini, spietata e avida. Sposa ricchi facoltosi per poi tessere intorno a loro una tela da cui è impossibile fuggire. Si fa nominare erede testamentaria di favolose fortune e poi, inspiegabilmente, l'"amato consorte" passa a miglior vita. Ma non le basta mai. Il suo è un gioco che non permette soste, qualcosa nel suo animo inquieto la spinge a continuare la caccia, a tendere sempre nuove trappole. Nora potrebbe essere la perfetta dark lady di un classico noir degli anni Quaranta, invece è una donna vera nel mondo reale...
ISBN: 8830422436
Casa Editrice: Longanesi
Pagine: 283
Recensioni
This book was entertaining to say the least! The characters have a good deal of depth for a quick beach read. The mystery wasn't huge in this one but it had enough to leave you reading in one sitting if you are a Patterson fan. It's the characters in this book that make it because there is so much g Leggi tutto
GoodReads.com
I picked this book up in the resort library because I had forgotten to pack a quality book. Yes, I finished it, but that was because I didn't have a lot more options. A quick, easy read, it left nothing to talk about. If you like sex scenes, there are some. But it was lacking in mystery, suspense... Leggi tutto
GoodReads.com
Didn't think I was going to like this much, considering it is for adults and is a crime-thriller type thing. But I did enjoy it! I've been trying to get out and read a wider range of material and this book was the beginning of that. I'm excited to see what other wonders I will discover along the way Leggi tutto
GoodReads.com
This stands out as one of the worst books I have ever read. Just a taste of the cheesiness within: "Connor vs. Jeffrey. They were both so much fun. They made her laugh, made her feel special. And there was certainly no denying that they were wonderful in bed -- or wherever else they chose to have sex Leggi tutto
GoodReads.com
So this is the guy, who's top earning author of 2015, dwarfing all his competitors? Well now, I'm not gonna say that it is bullshit (though I cannot confirm or deny that I might or might not be thinking so), but certainly I'm gonna be very vocal about not understanding why and how, but mostly, why.
GoodReads.com
Even though the story is still quite entertaining, the characters are very cheesy and credulous. How can Nora Sinclair pull it off with her marriage with one man and continue her affair of the other man, or how can she so easily transfer the money of her fiancé's account to hers' in Cayman Island. I Leggi tutto
GoodReads.com
Like any James Patterson book, it was fast-paced and read quickly. However, like many of his books, Honeymoon was filled with half-baked plot twists, plot developments that were unnecessarily made into twists, and just odd narrative decisions throughout. If the book had been straightforward, then I
GoodReads.com
Ooops. Deleted the review. Audiobook - Narrated by Campbell Scott and Hope Davis - Good narration, although I don't particularly enjoy female narrators. This book is totally unbelievable and cheesy...LOTS cheesy. But I enjoyed it anyway, for the second time.
GoodReads.com
Ugh. You're always taking a risk with James Patterson. Often, his books can be trashy, fast-paced fun. But Honeymoon , which my edition claims is the "Worldwide Thriller of the Year", is an unmitigated bore. Thankfully, the 2 to 3 page chapters ensure it can be read quickly and easily - otherwise you Leggi tutto
GoodReads.com
Aggiungi la tua recensione
Altri libri di James Patterson
Il Libraio per te
I libri scelti in base ai tuoi interessi
Il Libraio per te
Scopri i nostri suggerimenti di lettura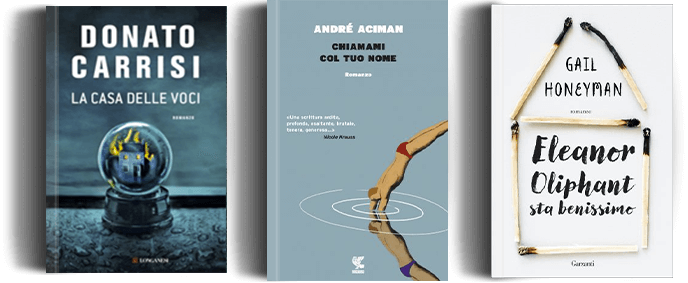 Ancora alla ricerca del libro perfetto?
Compila uno o più campi e lo troverai