Come una tempesta
Tutti i formati dell'opera
Acquistalo
Sinossi
La famiglia Dunne è a pezzi. Dopo l'improvvisa morte del marito in un incidente subacqueo, per la prima volta Katherine Dunne deve occuparsi a tempo pieno della vita dei suoi figli, ormai allo sbando: la più grande, Carrie, soffre di bulimia e attacchi depressivi, tanto che a diciott'anni medita il suicidio. Mark, di sedici, è una specie di bradipo svagato che fuma marijuana dalla mattina alla sera. Il piccolo Ernie invece ha solo dieci anni, ma parla come un adulto, si abbuffa in continuazione e ogni giorno chiede alla madre se è stato adottato. Per rimettere insieme i cocci, Katherine organizza una vacanza in barca a vela per tutta la famiglia, affidando il timone a Jake, suo ex cognato e vecchio lupo di mare. Sembra la scelta migliore. Anche il nuovo, affascinante marito di Katherine, avvocato di grido e innamoratissimo compagno, pare d'accordo. Ma l'apparenza inganna, come ben sa Gérard Devoux, ex agente CIA e ora killer professionista, assoldato per eliminare la famiglia Dunne. Nell'ambiente Devoux è soprannominato l'Illusionista, perché la sua specialità è far scomparire le persone. E la vacanza si trasforma in un incubo senza fine.
ISBN: 883042577X
Casa Editrice: Longanesi
Pagine: 325
Recensioni
Here's some advice: Read a really bad book before you pick up this one. I quit at chapter 60. Why are the chapters only 2 pages long? Why are most of the paragraphs only 2 sentences long? Why is everyone beautiful and a millionaire? Why is the 45 yr old mother/heart surgeon so immature and stupid? Ho Leggi tutto
GoodReads.com
"I'MMA KILLMYSELF! WE'RE SINKING! BOOM! HOMIGOD A SHARK! SNAAAAAAAKES! Oh and throw a ghost in for good measure." There, now you don't really have to read this drivel! I've never read a James Patterson book before and I don't think I'll read a second. It reads like a goosebumps book* that he had to
GoodReads.com
This may be the stupidest book I have ever read. I ran to the library before our vacation to get some books to read at the beach. This book says on the back something like "may be the perfect book to read at the beach" so I checked it out. I haven't read any other books by this guy so I don't know i Leggi tutto
GoodReads.com
3.0-3.5* Not bad. I liked it but certainly not my favorite James Patterson co-written book. I was drawn to the book because of the lost at sea aspect; a scenario that is terrifying! The mixture of a murder plot and scandalous relationships really added to the plot. I did not connect with the characte Leggi tutto
GoodReads.com
I must say that I'm stumped by the rave reviews on this one. I guess I'm squarely in the camp of the reviewers who found this book to be predictable, with a flimsy plot and even flimsier characters. The only thing that kept me reading on was that each "chapter" was only 1-2 pages long. At some point Leggi tutto
GoodReads.com
The lure of the airport bookshelf with signs extolling the wonders of Mr. Patterson's writing, the accolades heaped upon the book, etc. I should have known. Luckily I took some other books with me on holiday. I soldiered on, hoping it would get better, but it felt like wasted time. I didn't connect w Leggi tutto
GoodReads.com
SAIL is another James Patterson book that blew my mind. Anne Dunne's family has been falling apart since the death of her husband. Trying to save her family she puts together a wonderful sailing vacation. As soon as they pull away from the dock the craziness starts! The twists and turns keep coming
GoodReads.com
Sometimes you have to read a really bad book to appreciate other books. This story had weakly developed characters who made no sense and a plot that was plain idiotic. The dysfunctional Dunne family go on a boating holiday so Katherine the mother can reconnect with her bulimic daughter Carrie, Mark
GoodReads.com
This was a real good story and had a great ending...I am so glad he left out all that gory stuff, kept me on the edge of my seat. Don't know if I will be getting on a sailboat for a vacation any time soon!! Patterson has won me back after this book... Susan
GoodReads.com
This book would probably be best read by a person who doesn't read very many books, if such a person were looking for something light to read at the beach or on an airplane. I wasn't familiar with Patterson & Co's books until I happened across this one at the library. The plotline sounded interestin Leggi tutto
GoodReads.com
Aggiungi la tua recensione
Altri libri di James Patterson
Il Libraio per te
I libri scelti in base ai tuoi interessi
Il Libraio per te
Scopri i nostri suggerimenti di lettura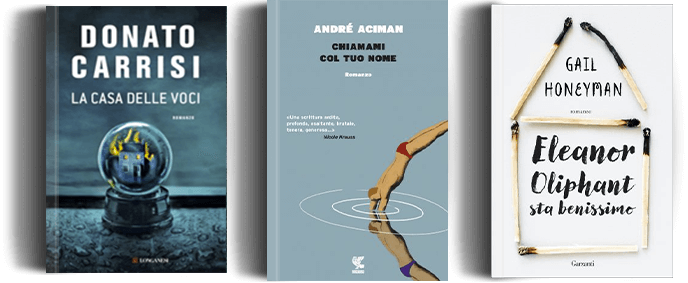 Ancora alla ricerca del libro perfetto?
Compila uno o più campi e lo troverai