Altrimenti muori
Tutti i formati dell'opera
Acquistalo
Sinossi
Nick Daniels sta per realizzare l'intervista più importante della sua breve ma intensa carriera di giornalista. L'occasione è ghiotta: dopo un lungo periodo di silenzio l'ex campione dei New York Yankees Dwayne Robinson, l'uomo che con i suoi lanci ha fatto sognare l'America del baseball, rivelerà in esclusiva alla prestigiosa rivista Citizen le ragioni di un repentino e incomprensibile ritiro dal mondo dello sport. Ma il giorno dell'intervista, al tavolo di uno dei ristoranti più in voga di Manhattan, le cose non vanno affatto per il verso giusto. Appena Nick Daniels accende il registratore, nel tavolo a fianco si consuma un atroce omicidio sotto gli occhi esterrefatti dell'intera sala: Vincent Marcozza, corpulento avvocato noto alle cronache giudiziarie per essere il difensore di uno dei più potenti capimafia della città, viene trucidato da un sicario che non esita a freddare anche due agenti fuori servizio del Diciannovesimo distretto. Comincia così per Nick Daniels, involontario testimone-chiave, un'inaspettata discesa agli inferi innescata da un indizio che si rivelerà quanto mai subdolo. E foriero di imprevisti…
ISBN: 8830432237
Casa Editrice: Longanesi
Pagine: 306
Recensioni
An absolute revelation! One star: one cliched, hackneyed, gadawful star. It was around page 250 that this book changed my life. I couldn't understand before then. No way, no context. No truth. Now my eyes are open. People who watch Bridezillas and SpikeTV need something to read while they poop! And ever Leggi tutto
GoodReads.com
Perhaps it's time for Patterson to stick to his already created series. Not a great read!
GoodReads.com
Don't Blink is the first James Patterson novel I've read in more than two years and his formula for delivering a fast-paced murder mystery was there in [Sam] Spade[s]. Written in the first person through main character Nick Daniels, Patterson and co-author Howard Roughan deliver what his loyal reader Leggi tutto
GoodReads.com
I really enjoyed this book, but since I'm a diehard James Patterson fan I wasn't surprised. When I first started reading it I wasn't sure I'd really like it. It starts out in the first person, then several chapters later changes to third person. It threw me off at first, but I got used to. Some prev Leggi tutto
GoodReads.com
I pre-warn you, I am on a serious case of getting on my soap box here so if you don't want to listen to 50% opinion and a 50% rant to the author then please feel free to read no further. The fact that I read this in a day and a half, and then spent a 20 minute walk moaning about it to my sister speak Leggi tutto
GoodReads.com
the word is shallow. and in a way the writing is so fluid that as a writer i can just envy. it seems like coming so easy with plenty of inventions. but on the whole if you want to block your mind in a flight, which i did, it is ok. i read much better Petterson thrillers so going to put it aside as s Leggi tutto
GoodReads.com
My first James Patterson book after a friend recommended him to me and I wasn't disappointed. To be honest, I was quite surprised. Short chapters with. very interesting story line that kept me guessing. The thing I liked most about it was the story was fast paced and kept me interested the whole tim Leggi tutto
GoodReads.com
Typical Patterson novel with a bit more gruesomeness than normal and required. Interesting throughout for the most part. 8 of 10 stars
GoodReads.com
James Patterson is known for writing fast paced mysteries that are very easy to lose yourself in. Don't Blink was different and not for the better. The book is written in the first person through the eyes of Nick, a reporter. The book carries on in the usual style until all of a sudden, Nick is talk Leggi tutto
GoodReads.com
I listened to James Patterson's DON'T BLINK on CD so I will address the narrator first and then proceed to the story itself. The narrator, David Patrick Kelly appeared to have an almost Southern lilt to his voice at the outset of the story that came across like an attempted impersonation of Matthew
GoodReads.com
Aggiungi la tua recensione
Altri libri di James Patterson
Il Libraio per te
I libri scelti in base ai tuoi interessi
Il Libraio per te
Scopri i nostri suggerimenti di lettura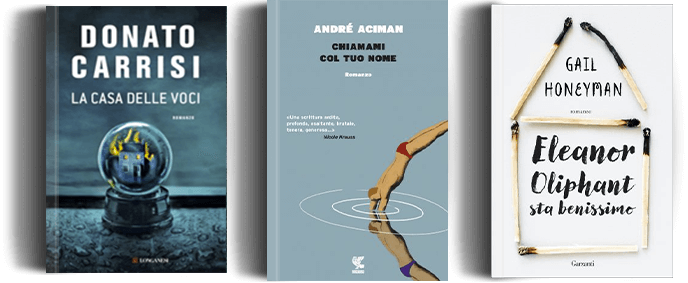 Ancora alla ricerca del libro perfetto?
Compila uno o più campi e lo troverai