La seduzione del male
Tutti i formati dell'opera
Acquistalo
Sinossi
Solo quindici mesi fa la vita della detective Lindsay Boxer sembrava perfetta: una figlia meravigliosa e un marito attento, Joe, che ­l'ha aiutata a catturare il terrorista autore di un terribile attacco nel centro di San Francisco in cui sono morte venticinque persone. Ma Joe non era chi diceva di essere e Lindsay sta ancora facendo i conti con le conseguenze delle sue menzogne quando in città si verifica una serie di morti, tutte a causa di improvvisi, e forse non accidentali, arresti cardiaci.
Come se non bastasse, il processo del criminale catturato con l'aiuto di suo marito sta per iniziare e la difesa sembra intenzionata a diffondere terribili sospetti sulle indagini che hanno portato Lindsay e Joe alla cattura. Ormai priva di ogni certezza, Lindsay potrà fare affidamento solo sulle sue forze per venire a capo di un letale intreccio ordito ai suoi danni da una mente criminale geniale che potrebbe farla finire sul banco degli imputati.
Un romanzo dal ritmo trascinante, denso della suspense e dell'emozione che hanno fatto di James Patterson l'autore di thriller più venduto al mondo.

ISBN: 883045205X
Casa Editrice: Longanesi
Pagine: 320
Recensioni
I'll give it the 3.5 star bump-up Another piece that shows that Patterson knows how to choose some of his co-authors to produce entertaining writing. Working alongside Maxine Paetro to craft sixteen novels in the Women's Murder Club, Patterson has been able to present high-impact writing peppered wit Leggi tutto
GoodReads.com
Easy read as usual but this book just didn't grab me. Usually I have to force myself to stop reading and get some sleep but this book I almost had to force myself to keep reading. The main story line and the secondary story line were both interesting on their own but neither one was fully developed
GoodReads.com
The last book that I reviewed by James Patterson, The Black Book, I commented on how it was one of his best books. However, this one is one of his less stellar ones. I read a lot by Patterson, but I must admit that his Women's Murder Club series is probably my least favorite, and this entry didn't h Leggi tutto
GoodReads.com
Detective Lindsay Boxer was enjoying dinner with her husband Joe Molinari on a rare night off when to their horror the Sci-Tron building in the near distance exploded in a shattering display of glass and rubble. They both ran to the site where they were hit by a scene of absolute carnage. And on the Leggi tutto
GoodReads.com
Ultimately, this 16th installment in the WMC series was not such a very satisfying read. First of all, the criminal trial for that bomber took forever (more than half of the book), and then to have that plot fizzle out, towards the end, without giving the readers a true sense of justice. The subplot Leggi tutto
GoodReads.com
My book ish: Blog | Insta This book can most aptly be summed as: butt syringes and bombs. All of the metaphors that conjures for you are accurate. It's basically the same old, same old: romance and relationship trouble, a few different subplots, courtroom drama and murder all coming together in a way Leggi tutto
GoodReads.com
The Women's Murder Club is back and there's plenty to keep your attention. With a few surprises thrown in, this was not a let down and I'm anxiously waiting for #17!
GoodReads.com
Because of the snobbery surrounding James Patterson's books I sometimes feel like I have to justify my enjoyment of them. That said, I unashamedly love the Women's Murder Club series and hope they keep being released for many years to come. That said I didn't feel like 16th Seduction was the best bo Leggi tutto
GoodReads.com
#16 in the Women's Murder Club series (and #13 with co-author Maxine Paetro). As always, short chapters; large font; and, plenty of white space, make this entry a quick read. Though engrossing, it was also unsatisfying because it left too many loose ends. What is the status of Lindsay's marriage, an Leggi tutto
GoodReads.com
I have generally stopped reading James Patterson books, or any books where the author is now sharing credit another writer. I have however always enjoyed the Women's Murder Club. This book was extremely poorly written. The plot was far fetched. There was limited interaction between the ladies and Jo Leggi tutto
GoodReads.com
Aggiungi la tua recensione
Altri libri di James Patterson
Il Libraio per te
I libri scelti in base ai tuoi interessi
Il Libraio per te
Scopri i nostri suggerimenti di lettura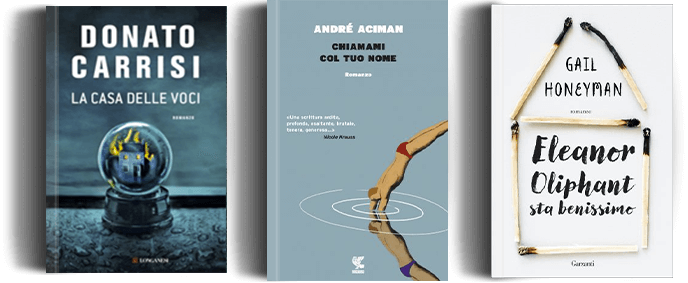 Ancora alla ricerca del libro perfetto?
Compila uno o più campi e lo troverai