Il settimo inferno
Tutti i formati dell'opera
Acquistalo
Sinossi
Un caso scottante Due giovani maniaci omicidi sono legati da un patto efferato: annegare nel fuoco i peccati dell'America. Aggrediscono le coppie in casa loro, e il gioco perverso si conclude con un incendio letale. Una scomparsa sotto gli occhi di tutti Ma non basta: da un caso "caldo" a un caso "freddo", una pista morta che si riapre grazie a un nuovo indizio. La scomparsa di Michael Campion ha colpito profondamente l'opinione pubblica. Tutti si sono appassionati alla storia del figlio del Governatore, un ragazzo malato di cuore, sensibile e intelligente. Ora però sembra che non sia rapimento, ma omicidio. La giovane prostituta Junie Moon, interrogata a seguito di una telefonata anonima, alla fine confessa l'irreparabile? Ma è davvero così? Una via di fuga dall'inferno Le pressioni su Lindsay Boxer e sul collega Rich Conklin perché risolvano al più presto i casi crescono a dismisura, e questo fa avvicinare Lindsay a Rich come non era mai accaduto prima, portandola sull'orlo del crollo emotivo. Ma le Donne del Club Omicidi sono pronte a correre in suo aiuto anche questa volta.
Le donne del Club Omicidi : il serial thriller al femminile Quattro amiche, quattro donne combattute tra problemi di lavoro e vita privata, protagoniste di una serie di thriller ad alto tasso di suspense e azione. ? La detective Lindsay Boxer, determinata e coraggiosa. ? La giornalista Cindy Thomas, brillante e spregiudicata. ? Il medico legale Claire Washburn, saggia e intuitiva. ? L'avvocato Yuki Castellano, astuta e tenace.
ISBN: 8830427306
Casa Editrice: Longanesi
Pagine: 310
Recensioni
7th Heaven is the seventh book in the Detective Lindsey Boxer Woman's Murder Club series by Maxine Paetro and it's a beauty! Lindsey and her partner Rich Conklin are trying to solve a series of deadly arson fires occurring around San Francisco. Someone is targeting beautiful mansions in the bay area Leggi tutto
GoodReads.com
This was a step up from 6th Target , but barely, and we took that step like this: We got there, but it wasn't easy. (this is my most favourite gif on all of the internet, B-T-Dubs) There's a lot of personal drama/love triangle vomit in this one between Lindsay, Joe and her partner Rich. Granted, if it Leggi tutto
GoodReads.com
I must say, Yuki is really getting on my nerves right now. The books seem to get more boring ever since there is that co-author. I can't help it. I liked Yuki at first but by now I really dislike her. When Jill was still there, you wouldn't spend half of the book reading about the things in court an Leggi tutto
GoodReads.com
I have to tread lightly when reading James Patterson books. I have really liked the Women's Murder Club series, but after the first one, they were almost unreadable. Crazy amounts of sex and bad language, they just weren't for me. The stories were always entertaining but I just hated those other par Leggi tutto
GoodReads.com
I absolutely loved the plot twist at the end.
GoodReads.com
I don't know why I persist in reading these awful things. I think I originally liked them, back when Patterson was actually writing them, as opposed to putting his name on other people's work. But Maxine's writing style is so mediocre, you just know she would never be published on her own merit. Ser Leggi tutto
GoodReads.com
3 Stars (that's being generous because I so invested in this series) Patterson teams up with Paetro again in the 7th book in the Women's Murder Club series This was a let-down for me – I read James Patterson for thrill suspense and speed reading. This book mostly felt like a clingy romance and reall Leggi tutto
GoodReads.com
San Francisco is Hot! There's so much going on that James Patterson keeps it simple but complicated simultaneously. Lindsay finally has a man that loves her to death but can't say yes to his marriage proposal. Now she's battling feelings about her partner and it may lead to problems at work and at h Leggi tutto
GoodReads.com
This wasn't one of my favorites but the series must go on! 3 stars! Full review to come!
GoodReads.com
It has been awhile since I read any of the Women's Murder Club (I'm hereby referring to it as WMC) books by James Patterson. I was waiting for this 7th book to come out in paperback, and even though it's been sitting on my shelves for awhile, I only recently got around to reading it. Don't ask me wh Leggi tutto
GoodReads.com
Aggiungi la tua recensione
Altri libri di James Patterson
Il Libraio per te
I libri scelti in base ai tuoi interessi
Il Libraio per te
Scopri i nostri suggerimenti di lettura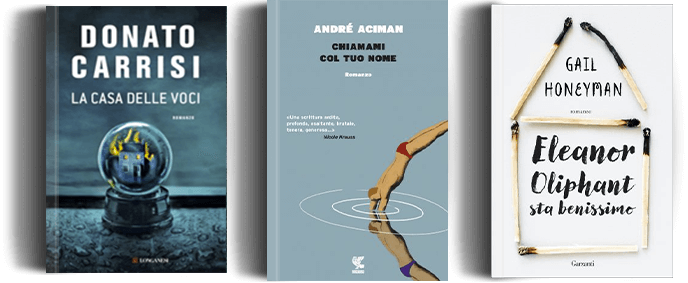 Ancora alla ricerca del libro perfetto?
Compila uno o più campi e lo troverai