Instinct - Edizione italiana
Tutti i formati dell'opera
Acquistalo
Sinossi
Non puoi catturare un assassino senza un po' di follia...
FINALMENTE IN ITALIA IL ROMANZO CHE HA ISPIRATO L'AMATISSIMA SERIE TV
Il professor Dylan Reinhart, ex agente della CIA, è uno stimato docente della Ivy League nonché massima autorità in fatto di comportamento criminale. Ma quando una copia del suo bestseller sull'argomento viene rinvenuta sulla scena di un omicidio raccapricciante insieme a un messaggio minaccioso dell'assassino, la polizia inizia a pensare che qualcuno possa aver «preso appunti».
Elizabeth Needham, brillante e determinata detective della polizia di New York responsabile del caso, recluta Dylan per assisterla nelle indagini e in particolare per decifrare il significato di un altro souvenir lasciato sulla scena: una carta da gioco. Ma la scia di sangue non sembra fermarsi: a ogni omicidio corrisponde una nuova carta. Così il professor Reinhart inizia a sospettare che le carte non siano una firma, ma piuttosto un punto di riferimento, un indizio del killer che punta direttamente alla prossima vittima. Mentre i titoli dei tabloid sull'assassino conosciuto come Il Mazziere spopolano in edicola, New York è in preda al panico. La polizia sembra perdere terreno e può puntare ormai solo su Dylan per dare la caccia a un serial killer letale e imprevedibile. E se, dopo essersi addentrato sempre più nella mente dell'assassino, dopo aver pensato davvero come un criminale, Dylan non riuscisse più a tornare indietro?

ISBN: 883045284X
Casa Editrice: Longanesi
Pagine: 320
Recensioni
In their recent collaboration, James Patterson and Howard Roughan have created a wonderful standalone piece to entertain readers. Dr. Dylan Reinhart has done well for himself: an established Professor of Psychology at Yale, happy in his long-term relationship, and a popular textbook on Abnormal Psyc Leggi tutto
GoodReads.com
Prolific author James Patterson and co-author Howard Roughan really hit a home run with this one: Intriguing story, interesting characters and, IMHO, an exceptionally satisfying ending. So much did I enjoy the characters, in fact, that I'd love to see psychology professor Dr. Dylan Reinhart and NYPD Leggi tutto
GoodReads.com
This is the first book in a long time that I couldn't put down. What a great story! I thoroughly enjoyed this one. It was fast paced and to the point. I'm disappointed it's over.
GoodReads.com
3.5* "Life can be messy and mystifying, all right. But every once in a while you get a day that seems to make sense of it all. Those are the days you remember most. The days you cherish." That has got to be one of the best quotes from a James Patterson co-authored book. I actually was very into this Leggi tutto
GoodReads.com
Readable but pretty mediocre. Not thrilling in the least. The detective didn't much detect. The psychologist didn't do much analysis. The serial killer wasn't particularly scary or memorable. Patterson is phoning it in.
GoodReads.com
Christened The Dealer by the media, the serial killer's calling card was literally that – a playing card. With it he identified the next person he would murder; the police just had to figure it out before it happened. NYPD Detective Elizabeth Needham was in charge of the case and when she alerted Pr Leggi tutto
GoodReads.com
4 Stars! Can you believe this was my first James Patterson book ever? Honestly I think I was a little intimidated to read his books but my IRL book club picked this as our book so I dove right in! We meet Dylan Reinhart who is a professor at Yale. He teaches a class about abnormal behavior. One day a Leggi tutto
GoodReads.com
This is the fifth James Patterson book that I have read so this year. I tend to read about six to seven of his books for the last several years. To be honest, I borrow them from the library because I don't find him good enough to buy and keep in my library. He's mind candy – simple, fast-paced, dete Leggi tutto
GoodReads.com
it was a quick read. I felt like the authors had one speed driving on a straight, flat desert road. A little disappointing, especially coming from James Patterson. I think it's time to slow down his speed of writing, focus on quality not quantity
GoodReads.com
4.25 stars An author, Dr Dylan Reinhart, has a copy of his latest book show up at a murder scene. From there he partners with a NYPD detective, Elizabeth Needham to figure out who this serial killer is. Another clue is a playing card - one is left at the scene of each murder - and the murders go on a Leggi tutto
GoodReads.com
Aggiungi la tua recensione
Altri libri di James Patterson
Il Libraio per te
I libri scelti in base ai tuoi interessi
Il Libraio per te
Scopri i nostri suggerimenti di lettura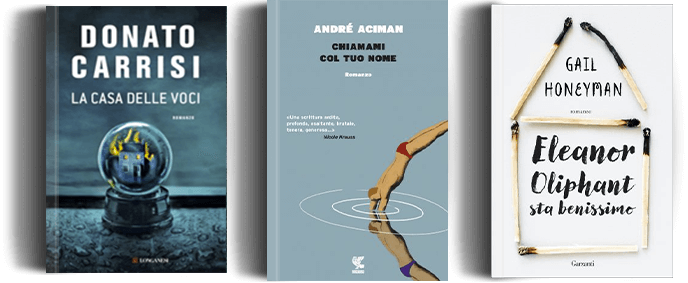 Ancora alla ricerca del libro perfetto?
Compila uno o più campi e lo troverai