Il ritorno del killer
Tutti i formati dell'opera
Acquistalo
Sinossi
«Un sequel ad alta tensione. Un thriller che lascia  con il fiato sospeso dall'inizio alla fine.»
Lettera 43

Evaso da un carcere di massima sicurezza, Kyle Craig, alias Mastermind, ha un solo scopo: vendicarsi di Alex Cross, l'uomo che lo ha fatto rinchiudere in isolamento per tutti questi anni. Per agire indisturbato, Craig cambia letteralmente volto, assumendo un'identità insospettabile. Nel frattempo Washington è scossa da una serie di delitti efferati, firmati da un cecchino che ha deciso di eliminare la parte marcia e corrotta della società. Il Patriota, così si fa chiamare il killer, sceglie le proprie vittime tra i politici e gli esponenti dell'alta finanza che ritiene responsabili della deriva del Paese. Un eroe o un pazzo criminale?, si chiedono i media. E poi, come fa quest'uomo a essere così informato sui movimenti delle sue illustri vittime? Le indagini vengono affidate a Cross, che entra subito in contrasto con l'agente inviato sul campo dall'FBI... Oltre a questa difficile indagine, Cross deve affrontare il ritorno di Mastermind che, disposto a tutto pur di eliminare lui e la sua famiglia, lo trascina in un gioco perverso, nel quale il detective ignora il volto del suo acerrimo nemico. Un piano diabolico che per Kyle Craig ha un sapore ancora più dolce, dato che per Cross si avvicina il giorno delle nozze…
ISBN: 8830432210
Casa Editrice: Longanesi
Pagine: 300
Recensioni
This Alex Cross installment was good on both the personal front plot and the crime plots. Crazy good to have the Kyle Craig aspect to come front and center for the length of the book in and out. Sometimes he dropped in at the end of one of the installments and it was, "oh, come on!" I find his and A Leggi tutto
GoodReads.com
I finished Cross Fire a couple of days ago and amid the storm of activity around the ranch here I tried to best organize my thoughts to a point where this review would not be too rambling. The thing that stands out the most for me with this newest edition in the Alex Cross saga series is this: No ma Leggi tutto
GoodReads.com
4 stars Action and suspense make this a fast read. This is my first James Patterson and I really liked it. The first two instalments were made into movies, and both were great. So maybe I should just start the Alex Cross series from the beginning (this book was given to me...quite some time ago....b Leggi tutto
GoodReads.com
Cross Fire (Alex Cross, #17) by james Patterson. Alex Cross comes face to face with his old nemesis...or does he??? Another fantastic, not to be missed, Alex Cross book. Just when I think J.P. couldn't possibly keep up another mind-boggling story-he does it again. 5 stars.
GoodReads.com
So my first novel by James Patterson which is surprising because even I know he has written a ton of novels..and I must check out more as his writing is crisp, engaging and easy to read, you find yourself tearing through pages and looking up to see half the book is gone and that is wonderful talent. Leggi tutto
GoodReads.com
Well it's about time that the Kyle Craig storyline was done with once and for all. This is the 11th book since we found out that Kyle Craig was the Mastermind and finally he got what was coming to him... and in such anti-climactic fashion. I think this is going to have to be my first negative review Leggi tutto
GoodReads.com
Preparations are underway for the wedding of Alex Cross and Bree Stone. Alex's family is excited and happy about the wedding. Kyle Craig, Alex's sworn enemy, is thinking about Alex's wedding and determined to do whatever is necessary to make Alex's life miserable. His plans to disrupt the wedding so Leggi tutto
GoodReads.com
Patterson's reads are engaging, which can be a bad thing when you're so caught up in the story you pick apart every scene of the book. Cross, to me, is not a reliable character. One book he'll come up with all the ideas and be hot on the trail of his killer, the next and he's clueless. I still don't Leggi tutto
GoodReads.com
A lot has happened in Cross Fire , like Alex Cross getting married. Oh, and don't forget that Kyle Craig is back. But of course Cross still somehow makes stupid mistakes within this book - which is just frustrating beyond relief. I don't really know how I truly feel about this book and I'm kind of sc Leggi tutto
GoodReads.com
Another Patterson Alex Cross book. That is enough to tell you it is good. Alex has three different cases going on in this book. First the alphabet killer, second someone killing high profile people who are not exactly nice people and 3rd Kyle Craig has escaped and is back in Alex's life. And Alex an Leggi tutto
GoodReads.com
Aggiungi la tua recensione
Altri libri di James Patterson
Il Libraio per te
I libri scelti in base ai tuoi interessi
Il Libraio per te
Scopri i nostri suggerimenti di lettura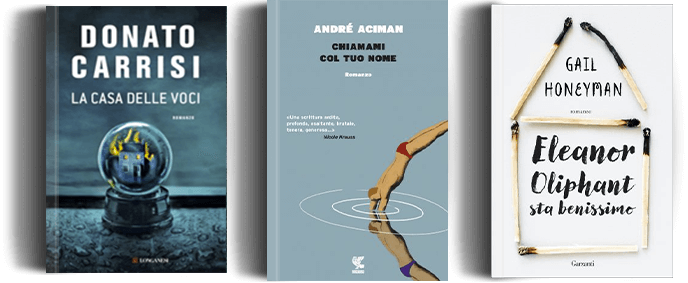 Ancora alla ricerca del libro perfetto?
Compila uno o più campi e lo troverai