Il sesto colpo
Tutti i formati dell'opera
Acquistalo
Sinossi
Un sabato mattina, pur essendo fuori servizio, riceve una chiamata dal suo capo: a bordo del traghetto Del Norte è avvenuta una sparatoria.
Vi sono morti e feriti tra i quali, come scopre quando arriva sulla scena del crimine, la sua migliore amica, Claire Washburn, direttrice dell'Istituto di medicina legale di San Francisco. Un testimone ha ripreso la strage con la videocamera inquadrando il colpevole, probabilmente uno squilibrato, che è riuscito a scappare e gira armato di una calibro 38.
Lindsay si mette subito in caccia. E qui per lei comincia il peggio: prima è retrocessa a sergente, poi prende una cantonata mentre indaga sulla scomparsa di una bambina, e sul fronte sentimentale le cose non vanno meglio. Un'altra sua amica, la giornalista del Chronicle Cindy Thomas, si trova in grave pericolo: nell'enorme palazzo in cui si è appena trasferita cominciano a verificarsi incidenti spaventosi, e intanto Yuki Castellano rischia di perdere in un processo importante, il primo per lei dalla parte dell'accusa.
Le donne del Club Omicidi sono in crisi.
Ed è solo l'inizio di una difficilissima partita in cui vince tutto chi si aggiudica l'ultima, imprevedibile mano?
ISBN: 8830425982
Casa Editrice: Longanesi
Pagine: 344
Recensioni
Apart from one or two that I haven't totally enjoyed, the Women's Murder Club series are a really good read. This "The 6th Target" written by James Patterson together with Maxine Paetro is a fast moving, edge of your seat thriller in the usual Patterson style, quick tense chapters, an excellent stor Leggi tutto
GoodReads.com
I have decided I am a fan of this series. They are all so easy to read and always have sufficiently intriguing mysteries and a nice batch of friendly characters. Add to this short chapters which keep the pages turning , and you have books which are always good to have at hand for when you need somet Leggi tutto
GoodReads.com
I have to keep reading these because I started them...but wow are they getting bad. The latest left it wide open for the 7th book. Also, my bf - a psychatrist took one look at the "Insane" killer and noted it wasn't even described correctly. also, I was left to wonder, if this person was doped up as Leggi tutto
GoodReads.com
This is a crime thriller, and this book is the 6st book in the Women's Murder Club series. I really enjoyed this book, and I feel this is one of my favorite in this series so far. I love the characters, and the storyline was really good. This book it well-written. I did not really love the last few
GoodReads.com
I usually enjoy James Paterson's books definitely not for his writing, but at least for his suspensful stories, but The 6th Target fell a little short for me. There was hardly any character development and I felt like he wrote the book just to get another "Best Seller" under his belt. As far as the
GoodReads.com
I really had to push my way through this one. I just feel he didn't have any passion for this book at all. It was lacking a lot. Yes, I enjoyed one or two things that happened in the book, but for the most part I was bored out of my mind.
GoodReads.com
On a bright sunny morning a madman with a gun has made a trip on a ferry boat deadly for four innocent people, one of whom is a young boy. Lindsay Boxer's best friend, Claire and her son William were also caught up in the attack and Claire has been shot in the chest. While Claire fights for her life Leggi tutto
GoodReads.com
A trio of crimes in this installment are a shooting spree on a ferry, the abduction of a little girl and her nanny and systemic attacks on tenants in a apartment building. Two of the three directly affect members of the Women's Murder Club, and one has indirect effect. Mr. Patterson wastes no time
GoodReads.com
I'm going to keep going with these because I'm addicted to the terribleness, and because I develop low-grade anxiety when I don't finish stories/series. But, PSA: THESE BOOKS ARE TEETH-MASHING, HAIR-PULLING-LY BAD. (But if you smoke a little, they become more bearable.) Lindsay is a whiny, unprofessi Leggi tutto
GoodReads.com
I feel that there is too much going on in this book. It begins with a major shooting, where one of the women in this group gets shot. The trial of this murderer continues throughout the book, while other cases are happening, like some murders at an apartment building, and a kidnapping of little girl Leggi tutto
GoodReads.com
Aggiungi la tua recensione
Altri libri di James Patterson
Il Libraio per te
I libri scelti in base ai tuoi interessi
Il Libraio per te
Scopri i nostri suggerimenti di lettura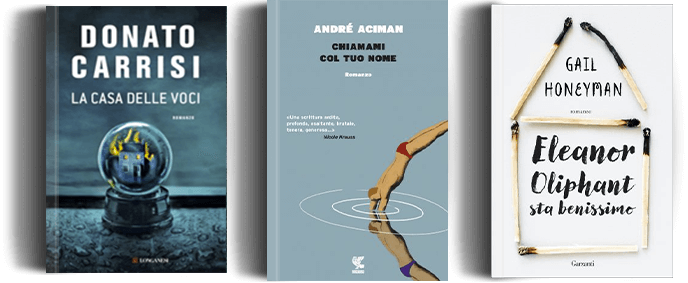 Ancora alla ricerca del libro perfetto?
Compila uno o più campi e lo troverai