La tana del lupo
Tutti i formati dell'opera
Acquistalo
Sinossi
un momento difficile per Alex Cross. Non solo i figli crescono e necessitano di tutta la sua attenzione di padre, ma la relazione sentimentale con la detective Jamilla lo coinvolge più di quanto aveva previsto. E poi passare dalla Omicidi all'FBI può essere un salto di qualità professionale ma certamente comporta difficoltà. Nuove procedure, corsi di aggiornamento e una non celata ostilità dei nuovi colleghi. Insomma il momento peggiore per affrontare un nuovo nemico del calibro del mitico Mastermind, che per anni ha infestato i suoi incubi. Questa volta il pericolo viene da est. Lo chiamano Il Lupo. È un padrino della mafia russa. Per qualificarlo basta un aneddoto: durante uno dei suoi brevi soggiorni nelle carceri americane ha insistito per essere lasciato solo pochi minuti con un boss della mafia siciliana. Quando è uscito dalla cella il suo "rivale" era morto con tutte le ossa fratturate, un chiaro segnale della mala russa che significa il cambio della guardia al vertice del crimine. Adesso il Lupo è libero, e cominciano a scomparire giovani donne, eleganti, ricche, affascinanti. Un caso che sembra fatto apposta per Cross il quale si troverà, per risolvere il mistero, a dover chiedere aiuto proprio a Mastermind.
ISBN: 8830423033
Casa Editrice: Longanesi
Pagine: 307
Recensioni
The Big Bad Wolf (Alex Cross #9), James Patterson The Big Bad Wolf is the ninth novel in the Alex Cross series written by James Patterson and was published in November 2003. Dr. Alex Cross is in the middle of his training at the FBI when he is assigned to work on a kidnapping case. A federal judge's Leggi tutto
GoodReads.com
James Patterson gets a lot of bad press for his books, and I can see they have quite a few faults. Nevertheless I still enjoy them so much I am willing to overlook a lot! This was just so readable. Short chapters and lots of action always keeps those pages turning and I am pretty attached to Alex Cro Leggi tutto
GoodReads.com
Here's an example of why I gave The Big Bad Wolf two stars. In one scene Alex Cross and his FBI boss track a man believed to be the most dangerous Red Mafiya criminal in the world, to his home in Miami, and arrest him during a party. Before slapping on the cuffs, someone yells, "Fire!" in the next r Leggi tutto
GoodReads.com
Not bad. Will be interesting to see where the little Alex situation goes long term. I found this crime plot only ok. I expected to like the plot a lot more than I did based on the description but honestly I only found it okay. My quick and simple overall: an okay installment. Really getting into thi Leggi tutto
GoodReads.com
Book 9 in the Alex Cross series. This has nothing new; the only new thing is the names of the characters. This is nothing more than formula writing. The first two books were a huge success so why kill that goose that gave you these eggs. The story staggers between gross violence and sweetly sick senti Leggi tutto
GoodReads.com
I was planning to start this review with a phrase that was able to convey incredulity. Incredulity at the skill which James must have employed deliberately to deliver a novel so comprehensively lacking in quality that it manages to fail against any literary benchmark that I can think of. The develop Leggi tutto
GoodReads.com
I haphazardly discovered Patterson's, Alex Cross, when I grabbed a worn paperback, Violets Are Blue, off of an overstock rack in a used bookstore. I had no idea that I had chosen a book that was the 7th in a series of at least 17. After devouring my first Patterson novel, and falling head over heels Leggi tutto
GoodReads.com
This book is one of the strongest one in this series so far for me. I found it really good. It ends in unresolved matters...so I of course have to start the next one! :D
GoodReads.com
4.5 ★ s Alex Cross had joined the FBI and was in his initial training period at Quantico (which he barely needed after the years as detective on the police force) when he was called into a high profile case. Attractive, young, blonde white women were being abducted – some in broad daylight. When it cam Leggi tutto
GoodReads.com
The Big Bad Wolf by James Patterson was okay for me felt the storyline fell a bit short for this fabulous series it fell flat in the middle he has done a lot better 3 1/2 stars
GoodReads.com
Aggiungi la tua recensione
Altri libri di James Patterson
Il Libraio per te
I libri scelti in base ai tuoi interessi
Il Libraio per te
Scopri i nostri suggerimenti di lettura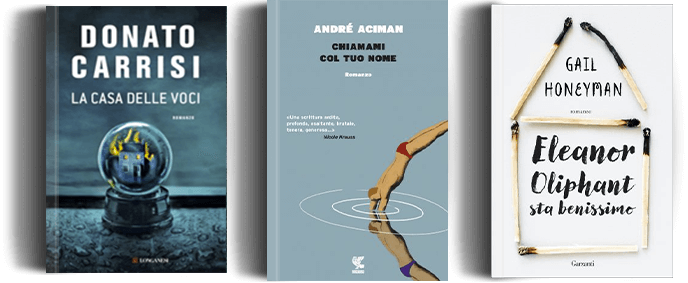 Ancora alla ricerca del libro perfetto?
Compila uno o più campi e lo troverai