L'istinto del predatore
Tutti i formati dell'opera
Acquistalo
Sinossi
Georgetown. Una bellissima villa a tre piani in stile coloniale, vicini e curiosi in vestaglia, radunati sul marciapiede. Dalle facce scure e gli sguardi vitrei dei tecnici che emergono dall'interno, Alex Cross ha già intuito che si troverà davanti uno spettacolo raccapricciante, ma non immagina nemmeno quanto. Cinque persone, un'intera famiglia massacrata con una violenza e una ferocia inaudite. E quello che è peggio è che Cross conosceva bene una delle vittime, Ellie, ex compagna di università e suo primo amore.
Ma non c'è tempo per abbandonarsi ai ricordi e alla nostalgia: troppe sono le domande che attendono una risposta, a partire dall'inspiegabile presenza di due agenti della CIA sul luogo del delitto. Unico indizio in mano a Cross, il libro che la donna stava scrivendo sulla situazione sociopolitica dell'Africa centrale. Chi si nasconde dietro la mano che ha ucciso Ellie? Chi c'è davvero dietro quel nome di battaglia, la Tigre? Che cosa lega quel brutale omicidio al massacro seriale che sembra aver preso di mira gli afroamericani di Washington? L'indagine si trasforma presto in una discesa all'inferno, sulle tracce di un oscuro e indefinibile disegno di morte che proviene da lontano. Da un luogo in cui soltanto Cross può addentrarsi...
ISBN: 8830428051
Casa Editrice: Longanesi
Pagine: 319
Recensioni
Hello again, Alex Cross. I saw this book in a charity shop yesterday and the hardback edition cost me a measly 33 pence. I was left unsure on the Patterson/ Cross dynamic after Kill Alex Cross but the fact I read this thoroughly in 24 hours in front of the other 400 books I have to read must say som Leggi tutto
GoodReads.com
I decided while I was reading the latest book in the Alex Cross series by James Patterson that reading Mr. Patterson's work is similar to eating at McDonald's. You know with both that there won't be any grand expectations in the experience you will gain with both, yet somehow there is an unseen forc Leggi tutto
GoodReads.com
For a book with so much going on and a plot that takes you to Africa, it was a bit dull. At times I was really into it but at others I was bored. Hate to say it but so far it was the Alex Cross books I like the least so far. Will continue the series for sure though. My quick and simple overall: soun Leggi tutto
GoodReads.com
I've always liked the Alex Cross books, but this one was a dud. Alex takes it upon himself to follow a murderer he's after to Africa. While in Africa, he gets beaten up, jailed & threatened countless times. It seemed to me that the plot was a way for Patterson to let us all know about the horrible v Leggi tutto
GoodReads.com
As readers, we have to be willing to suspend our disbelieve once in a while for the enjoyment of a book. Cross Country, the 14th Alex Cross novel, asks readers to go well beyond normal suspension and travels very far into unrealistic territory. Alex Cross, devoted family man who often feels guilty fo Leggi tutto
GoodReads.com
A quote from the book best describes "Cross Country." "It was baffling, it was incomprehensible. Just wrong on so many levels." The only reason I can think of that MIGHT have inspired James Patterson to write this awful book is that he might recently have become aware of the plight of millions of pe Leggi tutto
GoodReads.com
2 Baffled & Exceptionally Disappointed Stars In book 14, Detective Alex Cross finds himself investigating a massacre-style murder – vicious and bloody, it's only the beginning, as more families are slaughtered. In order to get justice and the truth Alex finds himself travelling to Africa and what he Leggi tutto
GoodReads.com
3 Stars. Much more a thriller than a mystery. I enjoy Alex Cross and John Sampson doing more of their thing as detectives, even if the criminal is bigger than life as most of Patterson's are, rather than pursuing the antagonist or being pursued by him through dangerous and frightening situations lik Leggi tutto
GoodReads.com
I am a HUGE fan of James Patterson's Alex Cross series. I look forward to each of the new releases with great anticipation. However, I must say, I was completely disappointed by this addition. I wish I had read the reviews before reading this. It was a quick read with the usual Patterson short chapt Leggi tutto
GoodReads.com
I think it's really weird that a lot of the criminals Alex faces have animal names. Patterson has delivered us wolf, weasel, and now the tiger. Well, this tiger isn't lounging around in a jungle or sitting pretty in a zoo. Nope, this guy is murdering lots and lots of people. He also murdered Ellie,
GoodReads.com
Aggiungi la tua recensione
Altri libri di James Patterson
Il Libraio per te
Scopri i nostri suggerimenti di lettura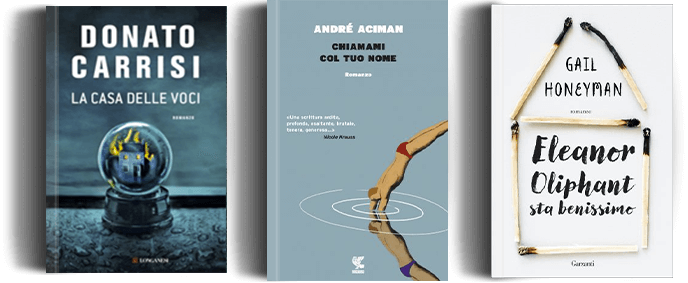 Ancora alla ricerca del libro perfetto?
Compila uno o più campi e lo troverai