L'ottava confessione
Tutti i formati dell'opera
Acquistalo
Sinossi
"Patterson è un maestro nell'arte di scrivere bestseller assoluti."
Chicago Sun-Times
"L'uomo che non può fallire."
Time
"Patterson è il re del regno incantato dei bestseller."
Publishers Weekly
"Patterson non delude mai. E quando dico mai, intendo proprio mai."
Usa Today
È una mattina come tante, a San Francisco, e Cindy Thomas sta dirigendosi verso la redazione del Chronicle quando qualcosa attira la sua attenzione. Una piccola folla di barboni disperati si accalca intorno a un mucchio di stracci, che a un'occhiata più attenta si rivela un uomo, o meglio quel che ne resta, visto che è stato picchiato selvaggiamente e finito con numerosi colpi di pistola al volto. L'istinto di cronista di Cindy si risveglia, insieme all'angoscia per una fine così orribile. Ma nessuno sa dirle chi fosse realmente il morto. I disperati che aiutava, e che ora piangono la sua morte, lo chiamavano Bagman Jesus, e tutti hanno una bella storia su di lui da raccontare.
Ma allora chi poteva volergli tanto male da fargli questo? Cindy chiama subito la sua amica Lindsay Boxer della Omicidi, ma Lindsay non può dedicare troppe energie a un caso di così basso profilo. Gli alti vertici infatti la stanno pressando, perché il jet set della città è percorso da una scia di morte. I primi sono stati Isa ed Ethan Bailey, belli, ricchi, sani, felici, trovati cadaveri nella loro villa hollywoodiana. Nessun segno di effrazione, nessuna impronta e soprattutto nessuna traccia di violenza sui corpi. E l'elenco è destinato a continuare? Chi è l'assassino? E soprattutto in che modo uccide?
LE DONNE DEL CLUB OMICIDI, QUANDO IL THRILLER HA I TACCHI A SPILLO

Quattro amiche, quattro donne di oggi combattute tra problemi di lavoro e vita privata, protagoniste di una serie di thriller ad alto tasso di suspense e azione.

La detective Lindsay Boxer, determinata e coraggiosa.
La giornalista Cindy Thomas, brillante e spregiudicata.
Il medico legale Claire Washburn, saggia e intuitiva.
L'avvocato Yuki Castellano, astuta e tenace.
ISBN: 8830428035
Casa Editrice: Longanesi
Pagine: 305
Recensioni
This is the eighth book in the Woman's Murder Club series, and it's another thriller from the explosive beginning to the exhilarating ending! Maxine Paetro hasn't missed a beat! This edition is an audio book, narrated once again by the talented and exciting Carolyn McCormack who breathes life into t Leggi tutto
GoodReads.com
The slow ascension to becoming something half decent to read has come to a halt. Like all recent co-authored books in this series, The 8th Confession once again weaves together multiple plot lines. There is the dead homeless man, nicknamed Bagman Jesus, that Cindy stumbles upon, as well as the murder Leggi tutto
GoodReads.com
Third Read: I'm eventually going to fill in all the blanks I have in this series. This one is kinda strange....many plot twists and turns. Don't want to spoil, but it's a good read. Recommend. Second Read: 07/23/15 I enjoyed it very much the second time. Didn't remember I'd already read it. First Read Leggi tutto
GoodReads.com
He and I are thisclose to breaking up. I'm going to give the next Alex Cross book another try and if that isn't fantastic, Patterson and I are done. For real. This is the 8th installment in Patterson's Women's Murder Club series. There are two murder mysteries going on. The first is a series of crimes Leggi tutto
GoodReads.com
This is the first of the series that I actually read. I listened to all of the others on CD while working. I have come to the conclusion that's the best way to experience these books. When I picked up the book at my library, I thought I'd mistakenly put the Large Print version on hold. Tons of white Leggi tutto
GoodReads.com
This is a thriller/Mystery, and it is the 8th book in the Women's Murder Club series. This book as more then one case in it and it is fast pace. I really enjoyed this book. (*)
GoodReads.com
I can't help it. I love murder mysteries, especially the quick, easy-to-read one's. My obsession with one of these novels is such that I have to refrain from reading them during the school year, because otherwise I would get nothing done. I become so enthralled with whichever novel I'm reading that
GoodReads.com
Judging by how well this main case of super rich people getting murdered in San Francisco is progressing, I notice that there's no real improvement to the detective skills of the southern division SFPD, as depicted here in this 8th installment of the Women's Murder Club. There's no question that the Leggi tutto
GoodReads.com
So, I've had this love/hate relationship with James Patterson since I read my first Alex Cross novel quite a few years ago. See, he writes these amazing stories but he breaks them up into itty bitty chapters. Why is this a bad thing? Well, mainly it's a bad thing because you find yourself sitting th Leggi tutto
GoodReads.com
James Petterson has been writing a series of books which are part of the 'Womens Murder Club' series.They involve four women who have all featured heavily in previous books. They are Lindsay, Cindy, Yuki and Claire. The story for the 8th Confession focuses on two main threads. The first is a murder o Leggi tutto
GoodReads.com
Aggiungi la tua recensione
Altri libri di James Patterson
Il Libraio per te
I libri scelti in base ai tuoi interessi
Il Libraio per te
Scopri i nostri suggerimenti di lettura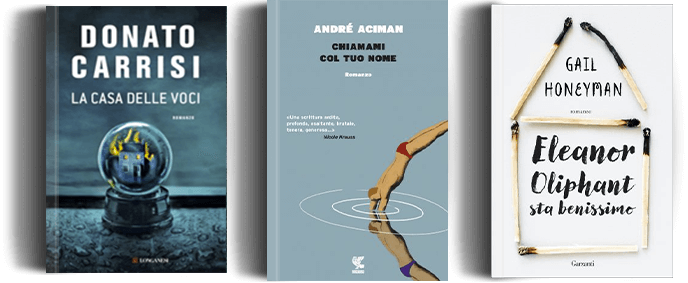 Ancora alla ricerca del libro perfetto?
Compila uno o più campi e lo troverai