Senza appello
Tutti i formati dell'opera
Acquistalo
Sinossi
Colpisce a caso, indiscriminatamente. Uccide giovani mamme e i loro bambini nei parcheggi dei centri commerciali, nei parchi, ovunque riesca a sorprendere le sue vittime ignare e indifese. Unico indizio: una sigla misteriosa tracciata con il rossetto accanto ai corpi senza vita. Chi è il Killer del Rossetto? Qual è il suo orribile disegno di morte? San Francisco è nel panico e già i media invitano la popolazione a girare armata, pronta all'estrema difesa.
Lindsay Boxer brancola nel buio e la pressione degli alti vertici della polizia si fa insostenibile, anche perché la detective deve risolvere con altrettanta urgenza un altro caso enigmatico. Deve scoprire come mai un abilissimo ladro di gioielli, che finora si è limitato a svuotare le casseforti dei ricchi della città, durante un furto abbia spietatamente ucciso la moglie di un famoso attore, Marcus Dowling, che ora dalle principali trasmissioni televisive proclama il suo dolore e chiede giustizia. Lindsay deve ancora una volta mettere da parte la sua vita privata, il suo legame sentimentale con Joe, per gettarsi nelle indagini, arrivando a rischiare la vita in prima persona. Lindsay però non è sola: nel vortice di terrore sprofonderanno con lei anche le amiche del Club Omicidi...
ISBN: 8830431931
Casa Editrice: Longanesi
Pagine: 279
Recensioni
Why am i still reading this series you ask???? I have no idea other than I'm already 9 books in and I AIN'T NO QUITTER. I'm dedicated, I just keep going no matter how embarassing or pointless it is - like a boy band still touring into their 50s. You're balls hit the toilet water, don't they Jordan K Leggi tutto
GoodReads.com
I am not usually a fan of this particular series. I find the four women high maintenance and tiresome. However in this one they are all more bearable than usual and anyway the story is so good I could ignore their sillinesses. As with all Patterson novels the book moves at a very brisk pace with shor Leggi tutto
GoodReads.com
Not my favourite James Patterson series (written with Maxine Paetro) but on the whole this was a good read. The main storyline was a killer shooting random women and children for no apparent reason, with a cat burglar nicknamed 'Hello Kitty', a secondary thread. I enjoyed the cat burglar more than t Leggi tutto
GoodReads.com
What makes a writer continue on when the story is over? I was enjoying this tale until James Patterson needed to continue with a couple of chapters at the end that were not necessary. Is there a certain word count or page number that an author has to hit before their book is complete? Lindsay Boxer a Leggi tutto
GoodReads.com
The 9th Judgment audio book is number nine in the Woman's Murder Club series written by author Maxine Paetro and narrated by Carolyn McCormick Once again author and narrator pair up together creating another breathtaking, nail biting, thriller that's not to be missed! Maxine Paetro is an old hand at Leggi tutto
GoodReads.com
why am i still reading this series?? it's TERRIBLE. i mean, the first ones were good. but then . . . i swear, after 3rd Degree everything went down hill. and now it's what, six books later and i'm still surprised that they are getting worse? there wasn't even anything INTERESTING in it. and it made
GoodReads.com
Was so awesome to get back to the these characters after years being away from them. When we were moving bookshelves because of a pipe busting so now want to get caught up on the series. Yep so that's my month goal! They aren't huge books and are fast reads so....on to book ten! My quick and simple
GoodReads.com
Of all of the Women's Club Murder mysteries, this one has to be my favorite! James Patterson and Maxine Paetro do a stellar job of weaving a tale that keeps the reader interested, cover-to-cover. I had a very hard time putting this book down, and finished it in a matter of several days! This has to
GoodReads.com
By far, the most twisted book in this series. You know from the get go who the bad guy is and boy do you want the cops to get him. He's sick and twisted and ... Ugh he was just bad. There there was the second case in the story that you couldn't get a read on until it was coming to an end and you wer Leggi tutto
GoodReads.com
I'm sick of this series and the fact that there's a 10th book already out pisses me off even more BECAUSE i CAN'T BELIEVE ITS NOT OVER YET. I followed this series because the first book was AMAZING, I enjoyed it and thought "Wow a women that's a cop and a series that centers around her life count me Leggi tutto
GoodReads.com
Aggiungi la tua recensione
Altri libri di James Patterson
Il Libraio per te
I libri scelti in base ai tuoi interessi
Il Libraio per te
Scopri i nostri suggerimenti di lettura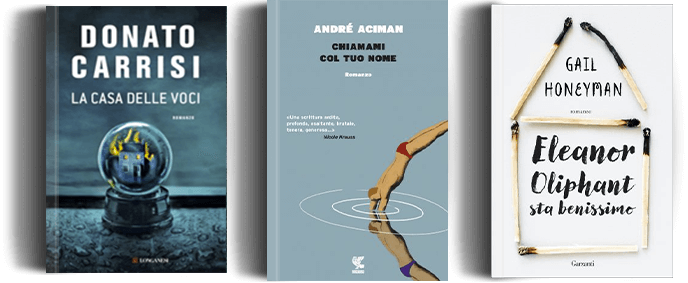 Ancora alla ricerca del libro perfetto?
Compila uno o più campi e lo troverai